Tom Spark is a multi-skilled, award winning film-maker who directs, shoots, writes and sometimes edits. A talented painter from a young age, it was Tom's love of cameras that brought together his technical, physical and creative sensibilities. Tom's approach to direction, be it drama, comedy or somewhere in between, is characterised by naturalistic performances, emotive perspectives, and a slightly darker cinematic sensiblity.
Practice isn't the thing you do once you are good. Its the thing you do that makes you good.
Malcom Gladwell
Isn't life but a series of images that change as they repeat themselves?
Andy Warhol
Life imitates art far more than art imitates life
Oscar Wilde
Chance favours only the prepared mind.
Louis Pasteur
Its not the strongest of the species that survive, nor the most intelligent, but the most responsive to change.
Charles Darwin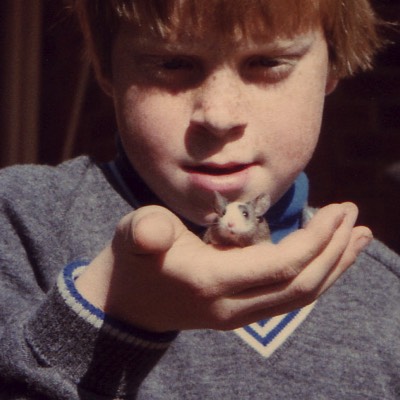 Films are a version of life. We dress them up, strip them down, present them raw, or let them stew, tuning them as they evolve; and with a touch or more of inspiration, maybe transform them, or sometimes by simply knowing when to leave them alone, into some kind of art.

Although a sometimes cruel mistress, I love making films because
she
is the culmination of so many disciplines; requiring co-operation, collaboration, balance and interaction, always requiring that the whole package take precedence over the sum of her parts, whilst still understanding she needs great parts! Making an engaging film is like magic; preparation is mandatory, the process personal, the strings well hidden, understanding optional, and the result always remaining elusive until you arrive at the climax; allowing space for improvisation, room for the unexpected, whilst commanding enough control over her wicked ways to ensure the audience gets off.

Born, raised and currently based in Sydney, Australia, my strengths lie in being a hands on film-maker, with a strong understanding of the technical and a genuine sense for the creative. I call myself a film-maker because I enjoy putting on the different hats that enable me to discovering how to make a project tick.

I love to read novels and graphic novels. My classic sensibilities are balanced by my desire to keep it fresh, embrace technology and see our world from inspired perspectives. Inspiration drives my quest for great moving pictures, compelling stories and the right execution of ideas; memorable experiences distilled in time; life captured on a screen, stories and imagery bursting to come out or threatening to suck you in. I am lover of cinema.
-Tom Spark